Post by Bianca Reed on Feb 5, 2022 8:34:38 GMT -5
---
★ MAINSTREAM WRESTLING ★
★ WRESTLER BIOGRAPHY ★
---
★ APPEARANCE ★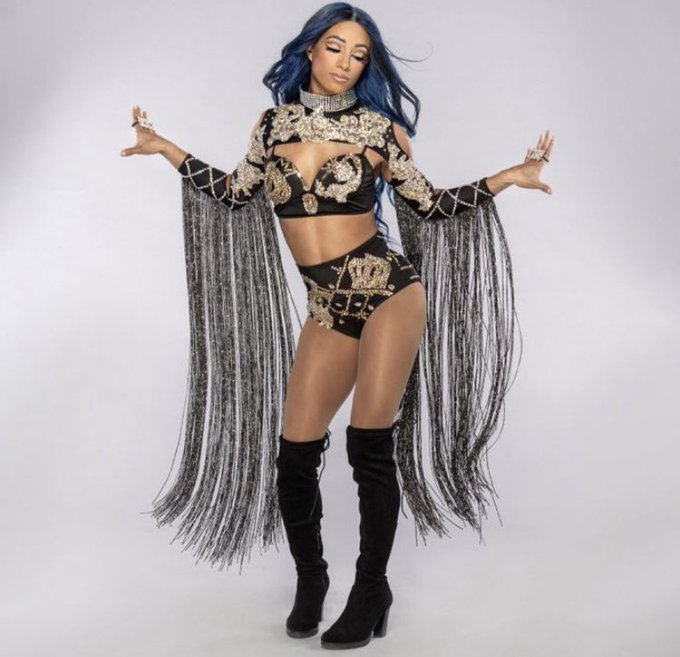 Sasha Banks
---
★ WRESTLER INFORMATION ★★ NAME ★
Bianca Marie Allen Reed
★ ALIAS ★
Bianca Reed
★ HOMETOWN ★
Atlanta, GA
★ AGE ★
26
★ HEIGHT ★
5'2"
★ WEIGHT ★
120 lbs.
---
★ WRESTLER DETAILS ★★ WRESTLING STYLE ★
High flying showboat
★ BRIEF CAREER BIOGRAPHY ★
Born in Atlanta, Georgia to Serena Allen, Bianca was raised by her mother until she was ten years old. Bianca knew her father was married with children, but she never met him. Instead, she had to deal with a stepfather who was also white, and three much younger siblings who didn't look a thing like her. Bianca grew up feeling like she didn't quite fit in anywhere, so she channeled her energy into dance. Her mother had been a ballroom dance instructor, and Serena taught her daughter everything she knew. Bianca became a competitive dancer, winning championships throughout high school.
Around the same time, Bianca received a letter from someone in state penitentiary named Darius Reed, claiming to be her half-brother. Their father, Matthew Reed, had only recently told him of her existence, and had charged him with looking after eighteen-year-old Bianca. Serena wasn't happy about her daughter corresponding with a convicted felon, but Bianca had latched onto her correspondence with Darius as something that finally made her feel connected to the world. After high school, Bianca became certified as a hairdresser and esthetician, getting a job in a salon while continuing her wrestling training.
In late 2015, Bianca took the money she'd saved and made her way to San Diego, where Darius and her other brothers, Aries and Cassius, were working. However, the company closed soon after and Bianca spent time traveling with her brothers, competing as a tag team and a trio with various combinations of them in England and in Mexico. She briefly went to LDFC, but soon after her arrival there, she received an offer to train with White Phoenix at his facility in Tennessee. Though she still competed with her brothers on occasion, Bianca's focus was on her training.
With her brother Cassius newly named as the Vice President of Talent Relations in HKW and with friendships (and rivalries) emerging on social media with several members of the company's developmental, Bianca approached Andreas Lasiewicz about joining RISE. She sent in her resume and video reel, in the hope that her talent would be enough to get her in.
After a year in RISE, Bianca attracted the attention of Adam Grant, who invited her to Future Shock, where she won the Aspire Ring and successfully cashed in for a shot at the Future Shock Championship. She was also called up to the main roster shortly after her cash-in and she made her intentions known immediately - she was here to take over, just like she'd done in Future Shock.
But the takeover she envisioned didn't happen. Disgusted, Bianca decided a new company and a new attitude would be what she needed in order to break out of the rut she'd been forced into for two years.
★ ENTRANCE THEME ★
"Diamonds" by Megan Thee Stallion & Normani
★ ENTRANCE DESCRIPTION ★
Diamonds are a girl's best friend, diamonds are a girl's best friend
Southern girl in me I ain't afraid to catch a case, VVS's on me and I flooded out the face
Diamonds are a girl's best friend, diamonds are a girl's best friend
I don't need you, I've got flooded out baguettes
I don't need you, all my diamonds dripping wet (Cartier)
Blue lights flood the arena with two spotlights centered on the entrance ramp as Bianca Reed walks out, stopping at the top of the ramp and lifting her shades to the top of her head. She rolls her eyes at the crowd and treats them to some smack talk as she struts down the ramp, making a "blah blah blah" gesture as she gets closer to the ring.
Ring Announcer: From Atlanta, Georgia, she is the Princess of House Reed, "Killer B" Bianca Reed!
I'm a super shero, bitch, don't try me hoe, bad like a villain, I pop it and then I reload
All the best things in life come for free, but don't you think that applies to me
I do what I want 'cause I know that I'm hot, I ain't a band but you know how I rock
Don't need no clippers to give you a chop, took me to dinner then I took him out
I like it when you call me crazy, long as you keep callin' baby
Upon reaching the ring, Bianca hops up onto the apron and leans back against the ropes, flashing a cocky smirk at the crowd before waving and ducking through into the ring. Walking to the center of the mat, she poses and takes off her sunglasses, tossing them casually to the side. Flicking her hair over her shoulder, she makes her way to the corner and stretches out over the top turnbuckle, giving a little wave to her opponent as she waits for the match to start.
★ ALIGNMENT ★
Heel
★ MANAGER ★
Aria Price
★ MANAGER PIC BASE ★
Zelina Vega
★ ALLIES ★
-Cartier
-Nefertiti Jackson
-
★ ENEMIES ★
- Jason Cashe (he bit her once and she's still mad about it)
- Anyone who tries to get in her way
-
---
★ FINISHER MOVE LIST ★***1 TO 3***
Cracker Jacker - diving corkscrew stunner
Reed 'Em & Weep - reverse springboard frankensteiner
Plan B - springboard Spanish fly (desperation/big match finisher)
---
★ HANDLER INFORMATION ★★ REAL FIRST NAME ★
Allison
★ YOUR ACTUAL AGE ★
Old enough
★ CHARACTER TWITTER HANDLE ★
@biancaslaysyou
★ HOW DID YOU FIND US? ★
Twitter