Post by Michael Cade on May 17, 2021 23:38:31 GMT -5
---
★ MAINSTREAM WRESTLING ★
★ WRESTLER BIOGRAPHY ★
---
★ APPEARANCE ★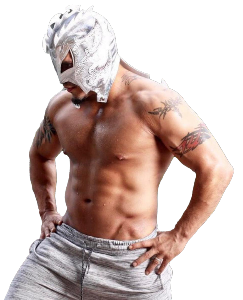 YOUR PIC BASE NAME: Kalisto
---
★ WRESTLER INFORMATION ★★ NAME ★
Reo Raijin
★ ALIAS ★
LuchaVillain
★ HOMETOWN ★
Born in Yamanashi, Japan and resides in San Francisco, CA
★ AGE ★
26
★ HEIGHT ★
6'1"
★ WEIGHT ★
208 lbs.
---
★ WRESTLER DETAILS ★★ WRESTLING STYLE ★
Strong Style w/Lucha Libra mixed
★ BRIEF CAREER BIOGRAPHY ★
His true name and identify are clouded within a cloak of shadows just as he hides his true face behind a mask of concealment. He exploded onto the scene of Action Wrestling as the man of mystery with a self proclaimed blood feud with the family Keeton. He has now followed him to Mainstream wrestling but only the future tells if they will collide.
★ ENTRANCE THEME ★
My Demons by Starset
★ ENTRANCE DESCRIPTION ★
An unknown gravely voice speaks as the arena lights begin fading to a dark shade of gray.
Akutō Akutō Akutō Akutō Akutō
The Japanese word for villain flashes onto the screen as the lights explode into a burst of brilliant white lights and pyrotechnics. The explosions sound as though they are coming from the ring and then another set of explosions that come from the entrance ramp.
My Demons by Starset begins playing loudly throughout the arena.
The cameras shakes and pans quickly throughout the entire arena before suddenly stopping within the stands of the audience. Reo Raijin walks out within the crowd and stands as he holds his hands and arms outward before quickly bringing them in as he grasp his hands into a fist.
He begins makes his way between the fans who are grabbing and patting him on the shoulders as a few attempt at taking a selfie as he passes by them. As he gets to the barricade separating crowd from audience he jumps onto the top of the barricade and turns towards the crowd.
The words are called out with what sounds like thousands of children screaming in unison.
Something wicked this way comes.
Raijin opens his arms out wide again as he drops off the barricade as he looks towards the crowd. Instantly he turns and walks up the steel steps and grabs the top rope pulling himself upwards and using his momentum to jump over the top rope.
He stands center ring and turns in a circle and he looks out over the crowd before backing into a corner and sitting on the canvas before the match begins. As the bell rings he grabs the top rope pulling himself to his feet facing his opponent.
★ ALIGNMENT ★
FACE/TWEENER/HEEL
Heel
★ MANAGER ★
Riley St. Clair
★ MANAGER PIC BASE ★
Ariana Grande
★ ALLIES ★
-
-
-
★ ENEMIES ★
- JC Keeton
-
-
---
★ FINISHER MOVE LIST ★***1 TO 3***
- Slaughterhouse – Quackendriver #3
- Akutō Lock – Tazzmission
-
---
★ HANDLER INFORMATION ★★ REAL FIRST NAME ★
Joey
★ YOUR ACTUAL AGE ★
Old
★ CHARACTER TWITTER HANDLE ★
Michael Cade
★ HOW DID YOU FIND US? ★
JC Keeton