Post by Chris Madison on Feb 16, 2020 13:20:12 GMT -5
---
★ MAINSTREAM WRESTLING ★
★ WRESTLER BIOGRAPHY ★
---
★ APPEARANCE ★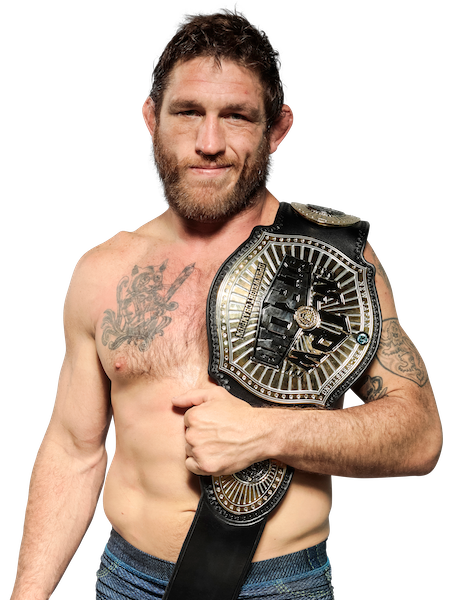 Tom Lawlor
---
★ WRESTLER INFORMATION ★★ NAME ★
Chris Madison
★ ALIAS ★
War Machine, Mayhem
★ HOMETOWN ★
Long Island, New York
★ AGE ★
40
★ HEIGHT ★
6'0"
★ WEIGHT ★
235 lbs.
---
★ WRESTLER DETAILS ★★ WRESTLING STYLE ★
MMA / Submission
★ BRIEF CAREER BIOGRAPHY ★
Chris Madison is a grizzled veteran who has been competing for two decades. During his career he has excelled in nearly every company he's wrestled for, amassing an endless list of accolades and championships, pushed by a competitive spirit and a drive to find "the next great fight". Now that he's in the twilight of his career, this has never seemed more prevalent. Knowing that he's on the backend of his career, Chris Madison is set out to prove that he's still capable of being a dominant force in the wrestling world that commands respect.
★ ENTRANCE THEME ★
"War Machine" by KISS
★ ENTRANCE DESCRIPTION ★
The arena's lights dim to black as the opening guitar riffs to "War Machine" by KISS begin to screech over the P.A. system. The video screen lights up with visual static noise. Suddenly in the center of the screen a black handprint begins pulsating to the beat of the drum that has begun to play. A spotlight shines on the entrance ramp and we see Chris Madison standing with his head bowed under a black towel, wearing an official licensed t-shirt that says, "Always Ready For War," across the chest. He nods his head to the music and as the chorus breaks he rips the towel from his head and tosses it into the live audience, starting his way down the ramp toward, the ring.

[center][i]Better watch out 'cause I'm a war machine
Better watch out 'cause I'm a war machine[/i][/center]

[b]Ring Announcer:[/b] [i]"Coming to the ring from Long Island, New York, weighing in at two hundred thirty-five pounds and standing six feet tall, "The War Machine" CHRIS MMAADDIISSOONN!!!"[/i]

Madison makes it to the base of the steps and places one foot down before scoping out the fans directly behind him by peering over his shoulder. He smirks as the live audience sings along to the entrance music and then marches up the steps and climbs through the ropes. He immediately leaps up onto the middle rope and faces out towards the crowd. He brings his fists up to his face and punches his jaw with each hand before shooting his arms out horizontally with his hands wide open, welcoming whatever challenge is coming his way. Madison hops backwards, bouncing off of his feet and turns towards the center of the ring, snarling and ready to go...
★ ALIGNMENT ★
FACE/TWEENER/HEEL
Face
★ MANAGER ★
Frankie Morrison
★ MANAGER PIC BASE ★
Ray Liotta
★ ALLIES ★
Jason Cashe, Elena DeDraca, Tommy Knox
★ ENEMIES ★
More to come
---
★ FINISHER MOVE LIST ★
- Peruvian Necktie - Madison cinches in a front face lock and forces his opponent between his legs while dropping his weight down towards the canvas. While dropping down he swings his right leg over the back of his opponent while keeping his left leg over the back of his opponent's head.
- End Game - Electric Chair Bridging German Suplex. Madison lifts his opponent onto his shoulders in a seated position. Madison then pushes his opponent into the air and as his opponent free falls back first towards the canvass, Madison secures a rear waist lock and slams him down into a bridged german suplex.
★ TRADEMARK MOVES ★
- HELICOPTER GUILLOTINE: Madison locks in a standing guillotine choke. After moving towards the center of the ring, he begins to spin around, picking up momentum as he turns, lifting his opponent clean off of the mat while maintaining the submission hold, eventually just releasing and tossing his opponent aside. *(Can't be done to really large opponents.)
- COMATOSED: Ripcord Rolling Elbow. Madison grabs his opponent with a rear waist lock while trapping one of his opponents arms. Madison pulls on his opponents arm by the wrist and forces him to spin around. As his opponent does a full 360 spin, Madison spins himself and hits a rolling elbow strike to the back of his opponent's head.
- FLYING ARMBAR: Madison grabs his opponent with a modified Muay Thai Clinch, trapping one of his opponents arms. He leaps up into the air, swinging one of his legs well over his opponents head while isolating the arm. Madison pulls his opponent down to the canvass into a tight arm bar submission hold.
- High Jump Moonsault to the outside. *(Very Rare. Only done in big matches and Supershows.)
★ STANDARD MOVES ★
STANDING
Cradle Suplex
Dragon Suplex
Hammerlock Northern Lights Suplex
Millennium Suplex (Cross Face Chicken Wing Suplex)
Overhead Belly-to-Belly Suplex
Pumphandle Suplex
Rolling German Suplex
Belly-to-Belly Suplex transitioned into an Arm Triangle Choke
Butterfly Suplex transitioned into a Cross Armbreaker
Half Nelson Suplex transitioned into a Seated London Dungeon
Standing Suplex transitioned into a Rear Naked Choke
Tiger Suplex transitioned into a Rings of Saturn
WheelBarrow Suplex transitioned into a Boston Crab
Tilt-A-Whirl Backbreaker
Colt 45 Backbreaker
Alabama Slam
Pop-up Codebreaker
Rear Waistlock Takedown followed by seated crossface forearm strikes
Lou Thesz Press with Mounted 12 to 6 elbow strikes
Muay Thai Clinch pressed against the ropes with knee strikes
Running Yakuza kick
Low Leg kicks to the opponents knee followed by a flying knee strike
Bicycle Knee Strike to the head
Torture Rack GTS
Tornado Snap Suplex. Madison grabs his opponent with a front face lock while standing on the second rope in the corner. He leans forward and drapes his opponent's arm behind his head before jumping off the ropes and spinning around. When his feet plant into the canvass he quickly snaps his opponent overhead with a suplex.
GROUND
Kimura with head scissors (submission)
Heel Hook (MMA submission)
Calf Slicer (MMA submission)
Omoplata (MMA submission)
Gogoplata (MMA Submission)
Fujiwara Armbar (submission)
Arm Triangle Choke (MMA Submission)
D'Arce Choke (MMA Submission)
Repeated knee strikes to the ribs
Deadlift Gutwrench Suplex
AERIAL
Suicide Dive
Double Foot Stomp (From the top rope or from the apron to the ground.)
Springboard Flying Knee
---
★ HANDLER INFORMATION ★★ REAL FIRST NAME ★
Chris
★ YOUR ACTUAL AGE ★
34
★ CHARACTER TWITTER HANDLE ★
@the_CMadison @frankeemorrison
★ HOW DID YOU FIND US? ★
Been following on Twitter for awhile