Post by Robb Daniels on Nov 3, 2018 20:05:32 GMT -5
HANDLER INFORMATION
NAME - Ed
WHO TOLD YOU ABOUT NAPA VALLEY REVOLUTION? - SPW Group Chat
Twitter Handle - @redtigerkid1
WRESTLER INFO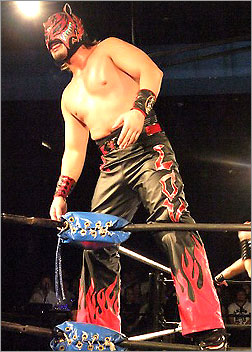 (Atsushi Maruyama as Osaka Pro's version of Tiger Mask)
NAME - Red Tiger Kid
ALIAS - (real identity withheld)
AGE - 19
HOMETOWN - Osaka, Japan
HEIGHT - 5'9"
WEIGHT - 185 pounds
WRESTLING STYLE - High flyer/lucha libre
ALIGNMENT (Face or Heel) - Face
BIOGRAPHY - A student of the same Japanese dojo that trained Eli Buchanan, it's rumoured the two share a personal connection. At the recommendation of his trainers he went to Mexico to learn how to compete as a luchadore. An extreme daredevil who will jump off of anything, the higher the better. He has come to NVR to continue his training and prove that he is more than a clone of Buchanan's alter ego.
ENTRANCE MUSIC - "Maximum the Hormone"- Zetsubou Billy
ENTRANCE DESCRIPTION - "Maximum the Hormones" starts playing and Red Tiger Kid runs out on to the stage. He solutes the crowd and dashes to ringside, high fiving fans along the way. He makes his way around the ring to greet as many fans as possible before rolling into the ring. He jump up on the middle rope in his corner and pumps his hands in the air to energise the crowd before jumping back down. He offers both the official and the ring announcer a respectful bow and shakes hands with them before returning to his corner and waiting for the match to begin.
FINISHING MOVES
1. The Supreme Flaming Leg Drop of Doom (Shooting Star Leg Drop)
2. Angel Falling into the Abyss Mach 5 (630 Splash, Desperation Finisher)
SIGNATURE MOVES
1. Reverse Huricanranna
2. 450 Splash
3. Metora
4. Pelee Kick
5. Shooting Star Press
REGULAR MOVES
1. Suicide Dive
2. Head scissor Takeover
3. Planchas
4. Dragon leg whip
5. Mexican Arm drag
6. Japanese Arm drag
7. Flying cross body
8. Drop kick
9. Spin heel kick
10. Victory roll
11: Huricanranna
12: Tornado DDT
13 Moonsault
ASSOCIATES: Eli and Charlotte Buchanan (got him his tryout for NVR)
RIVALS: none yet