Post by Robb Daniels on Nov 3, 2018 20:04:28 GMT -5
---
★ MAINSTREAM WRESTLING ★
★ WRESTLER BIOGRAPHY ★
---
★ APPEARANCE ★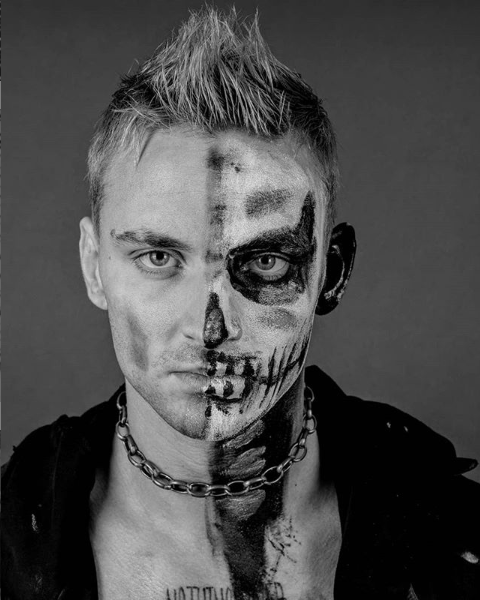 Darby Allin
---
★ WRESTLER INFORMATION ★★ NAME ★
Jimmy Pagan
★ ALIAS ★
Bastard Prince, Sin Eater
★ HOMETOWN ★
Beverley Killz, CA
★ AGE ★
25
★ HEIGHT ★
6'1"
★ WEIGHT ★
205 lbs.
---
★ WRESTLER DETAILS ★★ WRESTLING STYLE ★
Unorthodox Striker
★ BRIEF CAREER BIOGRAPHY ★
Jimmy Pagan is the bastard brother of Billy Danielson. He is the culmination of an affair between "Nite Stalker" James Danielson and his sister-in-law Christy Pridmore. Jimmy was raised without knowing this, and grew up idolizing his "uncle". Jimmy decided that he wanted to be a wrestler, just like his uncle and cousin, but shortly after his training started, he started to feel a dark presence around him. The mystical fierce led him to the discovery of his true heritage.
Training under the man who has been lying to him since birth led to Pridmore slowly going insane. He began to feed more into this dark presence he felt, ultimately selling his soul to exact revenge on the rest of the world. This is where Jimmy Pagan began.
Shortly after, he would get signed to West Coast Genesis, where he pretended to be both James Pridmore, and the Maniacal Nite Stalker. He tricked WCG star Austen Blackwell into believing that James was his friend, and that Nite Stalker was attacking both of them. At WCG's Crossroad: Escalation, Jimmy Pagan revealed himself to be both Pridmore and Nite Stalker, when he attacked Austen Blackwell. Pagan would go on to grow a following he would call the "Bastard Era" which was fueled by his blood lust and need for championship gold. Even going so far as to converting his best friend, his girlfriend, and his rival's girlfriend into demonic sick-minded people like him, Pagan was nearly unstoppable.
It took a priest with a baseball bat covered in pages from the Bible to exorcise the demons that were in Pagan. He had disappeared from nearly three months, before returning as "The Sin Eater". Now, his quest is to save those from their own dark sides. He's still ruthless, violent, and creepy, but now he's on the side of good, and is looking to take all forms of evil and reprobation down. He seeks to literally beat the devil out of everyone, and help them avoid the darkness he has felt.
★ ENTRANCE THEME ★
"Unsainted" by Slipknot
★ ENTRANCE DESCRIPTION ★
You don't use this XD, but here it is anyways
The lights in the arena begin to flicker, getting brighter and then darker to the beat of the eerie intro to "Unsainted". The seemingly angelic choir accompanied by the voice of Corey Taylor are heard, as the entire venue is filled with a white smoke. As the chorus plays on, The Sin Eater slowly begins to rise from the floor. His head is down and looks almost dead on his feet, as he continues to rise all the way until he is completely on the stage. Right as he makes it to the top of the stage, the music switches gears the heavier part of the sing, a Jimmy Pagan bursts to life. He outstretches his arm in almost a Christ-Like way, before charging at the guardrails. He bounces back and forth between the guardrails, scaring and intimidating fans in the process. As the first verse ends and the chorus returns, Jimmy Pagan dives into the ring. He leans back on his knees and spreads his arms out again in the Christ-Like way, as he begins to deep-breathe erratically. He stays in the dead center of the ring, as his music slowly begins to fade away.
★ ALIGNMENT ★
FACE/TWEENER/HEEL
Tweener leaning Face
★ MANAGER ★
N/A
★ MANAGER PIC BASE ★
N/A
★ ALLIES ★
Julianna DiMaria (girlfriend)
Trixie (Sister)
-
★ ENEMIES ★
Eli Buchanan
Chris Constantine Jr.
Billy Danielson (Brother)
A.J. Morales
Bryan Ford
Jason Cashe
---
★ FINISHER MOVE LIST ★***1 TO 5***
Nativity in Black (Strom Cradle Driver)
Snuff (Running Double Foot Stomp to Standing Opponent/Trevor Lee style)
The Grand Rite (Jumping Reverse STO)
Abyss Kick (Sick Kick)
Turn in My Grave (Springboard Tornillo)
---
★ HANDLER INFORMATION ★★ REAL FIRST NAME ★
Billy
★ YOUR ACTUAL AGE ★
22
★ CHARACTER TWITTER HANDLE ★
@lessjimmy
★ HOW DID YOU FIND US? ★
I work here