Kalidah
Aug 10, 2020 15:23:06 GMT -5
Post by Eli Buchanan on Aug 10, 2020 15:23:06 GMT -5
---
★ MAINSTREAM WRESTLING ★

★ WRESTLER BIOGRAPHY ★
---
★ APPEARANCE ★
INSERT IMAGE LINK
[/img]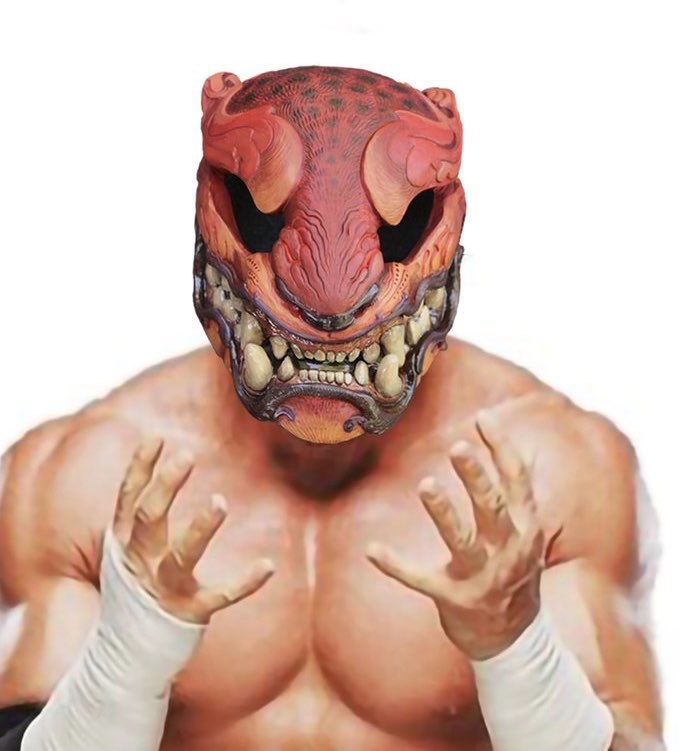 ---
★ WRESTLER INFORMATION ★★ NAME ★
KALIDAH
★ ALIAS ★
Eli Buchanan
★ HOMETOWN ★
Hotel California
★ AGE ★
(In earthly years) 28
★ HEIGHT ★
6'
★ WEIGHT ★
240 lbs.
---
★ WRESTLER DETAILS ★★ WRESTLING STYLE ★
Strong Style
★ BRIEF CAREER BIOGRAPHY ★
Eli Buchanan has wrestled around the world and held multiple championship, including reigns as Mainstream Tag Team Champion and World Champion, as well as the winner of the 2018 Emerald City Classic. Whether you want to call him by his reqal name, or as the twisted individual known as Tiger Mask Red, Eli is a sick minded individual, but something happened to him when he disappeared in February of 2020 that seems to have taken him to have caused him to go off the deep end. Now adopting a new mask, Eli has adopted the name "Kalidah", and has surrounded himself with other twisted individuals at the Hotel California. Some might scoff that this is just another lame gimmick of Eli's, but that doesn't explain how the weird things that seem to happen whenever Kalidah around...
★ ENTRANCE THEME ★
"Damned Anthem" by Killing Kind
★ ENTRANCE DESCRIPTION ★
Red smoke covers the entrance stage as "Damned Anthem" begins to play. Rising out of the abyss, Kalidah and Lotte appear. The two stare at one another for a moment before Lotte skips away, twirling and dancing as she makes her way down to the ring. Meanwhile, Kalidah slowly walks down the ramp, neither looking left or right. When he arrives at ringside, Lotte helps him out of his robe. He watches her skip up the ring steps and go between the ring ropes, before leaping up onto the ring apron and rolling over the tope rope into the ring. He stares at the camera while Lotte twirls around him. She pats his head and he follows her back to the corner to await the start of the match.
★ ALIGNMENT ★

FACE/TWEENER/HEEL
Heel
★ MANAGER ★
Lotte
★ MANAGER PIC BASE ★
★ ALLIES ★
-Lotte
-Leyrtix
-
★ ENEMIES ★
-Everyone
-
---
★ FINISHER MOVE LIST ★***1 TO 3***
-Carpe Jugulum (Tonga Death Grip)
-The Sacrifice (Go 2 Cheech)
-Boyame
---
★ HANDLER INFORMATION ★★ REAL FIRST NAME ★
Ed
★ YOUR ACTUAL AGE ★
42
★ CHARACTER TWITTER HANDLE ★
@tigermaskred
★ HOW DID YOU FIND US? ★
I've been around for a while now...