Leytrix
Jul 14, 2020 22:49:13 GMT -5
Post by Leytrix on Jul 14, 2020 22:49:13 GMT -5
---
★ MAINSTREAM WRESTLING ★
★ WRESTLER BIOGRAPHY ★
---
★ APPEARANCE ★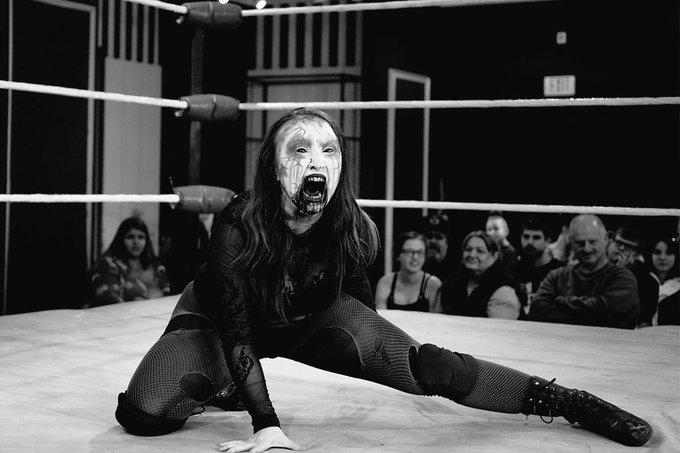 Abadon
---
★ WRESTLER INFORMATION ★★ NAME ★
Leytrix
★ ALIAS ★
Leytrix the Imp
★ HOMETOWN ★
The Abode of the Damned
★ AGE ★
Deceased (Born 31/10/1911-Died 26/9/1936)
★ HEIGHT ★
5'1"
★ WEIGHT ★
132 lbs.
---
★ WRESTLER DETAILS ★★ WRESTLING STYLE ★
Chaotically brutal brawler that will do all manner of vile things to an opponent.
★ BRIEF CAREER BIOGRAPHY ★
Rebekah Stevenson was born in St. Augustine, Florida on All Hallows' Eve in 1911 to Henry a tailor and his wife Emilia. The family lived a simple life and there's really nothing remarkable about her upbringing even though she lived through The Great Depression. Once she was of age to marry she was courted by the son of the mayor of St. Augustine Marcus Cooper. They lived a what looked like picture perfect life for the first few years despite her husband having a sizable drinking problem. He would get very violent when he'd drink and Rebekah was his favorite punchbag. His rage against her was compounded when it was found that Rebekah was barren and could not bare children. One evening when Marcus was especially drunk he went a much further than he had with his violence and nearly killed Rebekah. Driven to the brink of insanity and as a last ditch effort to survive Rebekah snapped. While her husband was sleeping she poured lamp oil all over him and set him on fire to which he died. When the authorities arrived to the scene Rebekah was found mad and was committed to a mental institution for the criminally insane. Over the next few years she was used as a test case for any drug or "therapy" the institution felt necessary until she died due to a failed experiment.
Once she left the mortal plane of existence her soul was denied entrance into heaven and was relegated to the depths of hell. Upon reaching the inferno she was quickly swept up by The Dark Lord to be his latest prize. She's lived her eternal damnation at the right hand of The Angel of Death as his personal Imp and was given the name Leytrix. She from time to time crosses into the mortal plane to have her way with the pathetic humans.
★ ENTRANCE THEME ★
"Vulture" by A Life Once Lost
★ ENTRANCE DESCRIPTION ★
The lights in the arena suddenly go out and the space is filled with red light as a ton of smoke begins to fill the stage. "Vulture" by A Life Once Lost starts to play. An ominous figure starts to walk slowly from the fog to reveal Leytrix looking pained and full of hate. On the screen a fiery image appears with what looks like human figures trying to escape hellfire. Leytrix looks up to the image that she loves and mutters something unintelligible to it as "Leytrix the Imp" flashes dripping in blood upon the screen. The walking abomination from the depths of hell starts to wretch as an on ly amount of black sludge is expectorated from her mouth and fire is shot out from the stage. She smiles a horrific grin before starting her march to the ring. On the way she growls and barks at the fans who are all repulsed by her presence as she smells of fire and brimstone. Once reaching the ring Leytrix crawls like the demon she is to the middle of the ring and vomits up another round of sludge to a chorus of boos and hatred. Leytrix plays with the viscous substance and screams a soul stealing noise as her music fades.
★ ALIGNMENT ★
FACE/TWEENER/HEEL
Heel
★ MANAGER ★
Lotte
★ MANAGER PIC BASE ★
Masked Girl
★ ALLIES ★
- Lotte
- Eli Buchanan
★ ENEMIES ★
- Savannah Sunshine
---
★ FINISHER MOVE LIST ★***1 TO 3***
Spiral into the Abyss - Spinning Fisherman Neckbreaker
Drink My Soul - Sludge covered Mandible Claw
Die a Beautiful Death - Running Powerbomb into Corner
---
★ HANDLER INFORMATION ★★ REAL FIRST NAME ★
Cory
★ YOUR ACTUAL AGE ★
Too old (46)
★ CHARACTER TWITTER HANDLE ★
@_Leytrix_
★ HOW DID YOU FIND US? ★
Billy from NVR