Post by Robb Daniels on Jul 13, 2020 19:42:31 GMT -5
Battleground Network Presents
MAINSTREAM WRESTLING 45
SUNDAY - 7/26/2020
MAINSTREAM WRESTLING STUDIO
SEATTLE, WASHINGTON
MAINSTREAM WRESTLING IS LIVE FROM SEATTLE, WASHINGTON AND WE'RE INSIDE THE MAINSTREAM WRESTLING STUDIO!
---
AS I WALK THROUGH THE VALLEY OF THE SHADOW OF DEATH
"Gangster's Paradise" by Coolio begins to play throughout the Mainstream Wrestling Studio.
GRAHAM STEVENS
: Please welcome to the ring at this time. Mainstream Wrestling CEO Robb Daniels, his wife Lauren Parker and the Mistress of Mayhen...Emma Douglas!
The lights abruptly turn off all at once as the music continues to play. Suddenly the curtain is thrown back and Robb Daniels and his wife Lauren Parker emerge from behind the curtain...Robb wears a very serious look upon his face, walking down the center of the runway with his wife in tow.
MCKAYLA LEWIS
: Ladies and Gentlemen—Welcome to MAINSTREAM 45! We're here live in the Mainstream Wrestling Studio in downtown Seattle, Washington and tonight we're kickoff the show with Robb Daniels the new Universal Wrestling League World Champion and his wife the new Universal Wrestling League Television Champion!
Daniels stops on the apron, sitting on the middle rope holding it open for his wife then wipes his alligator shoes off on the apron before stepping through himself. He circles the ring, unbuttoning his sports coat revealing the UWL World Championship and removes his sunglasses and places them for in a pocket inside his coat. His music ends and he is handed a microphone by Graham Stevens as he exits the ring.
CHARLES HUDSON
: Lou—I know exactly what he's out here to announce and I've been holding it in all day long...
MCKAYLA LEWIS
: No you don't Charles.
CHARLES HUDSON
: You're right I don't know but a friend of a friend who is friends with Mr. Daniels' intern gave me the scoop on what he's been concerned with today. We'll just wait and I'll let you hear it for yourself...
ROBB DANIELS
: You know what the beauty of an empty wrestling studio is? When you pull the wool over their favorite wrestlers eyes then you don't have to hear them boo you or interrupt every word coming out of your mouth!
Parker and Daniels laugh.
ROBB DANIELS
: It just wouldn't be right if I didn't come out here tonight and tell Chris Constantine Junior—I TOLD YOU SO!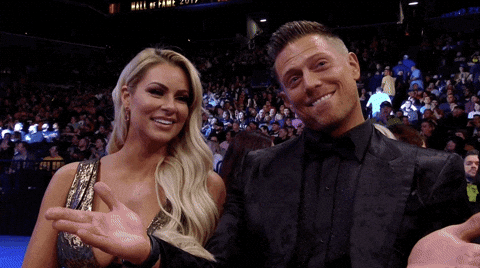 Both Robb Daniels and Lauren Parker turn their heads and attention to the corner of the ring outside of the cameras focus causing it to turn as well showing Emma Douglas patiently looking as dangerous as ever.
ROBB DANIELS
: Emma...Douglas...tonight is your night! Tonight you're in the Main Event! For nearly two months you've been undefeated in Mainstream Wrestling and you've earned this opportunity. You're going to ascend that ladder later tonight and retrieve...
The studio lights dim as "Unheavenly Creatures" begins to play in the Mainstream Wrestling Studio. Chris Constantine Jr. makes his way out with a angry look on his face as he's accompanied by his wife, Olivia Constantine.
GRAHAM STEVENS
: Now making his way to the ring being accompanied by his wife Olivia! From Chicago, Illinois! He is American Made! CHRIS—COMSTANTINE—JUNIOR!
Olivia remains outside at ringside while Chris climbs into the ring. He walks straight up to Robb Daniels who is smiling and takes the microphone straight out of his hand.
CHRIS CONSTANTINE JR.
: Cut the music. Cut it!
His music abruptly ends and the lighting returns to normal as Olivia is watching intently from the outside.
CHRIS CONSTANTINE JR.
: I know you had something to do with what happened last weekend and you stole the UWL World Championship from me Daniels! You're a liar and a thief! But I know exactly what I'm going to do!
Daniels is tossed a microphone into the ring which Constantine Junior immediately slaps it out of his hand and it slides out of the ring at the feet of Olivia.
CHRIS CONSTANTINE JUNIOR
: You've talked to much already, now it's my turn and you shut up and listen! Billy Danielson is a spineless coward leading three brainless has-beens around and I am going to bring him back down to earth! See you and I will always be like this! We will never see eye to eye and I will win back my UWL Championship one day BUT tonight. I'm going to kick that freak's ass then climb the ladder and take the crown for my own!
Daniels and Parker step back and laugh at the thought of Constantine Junior's chances against four other skilled wrestlers. Meanwhile Emma Douglas is seething paying very close attention to Constantine Junior following the "freak" insult. Daniels gets another microphone.
ROBB DANIELS
: Oh Christopher. You are right about one thing and that is we will never see eye to eye. Not because I hate you but because of what you've done to me and my family. See I have forgiven you but I will never forget the sadistic and vile beatings you gave my wife early on during her in-ring career. The things you've did and said to me. The total lack of respect you've shown me BUT I appreciate you! I really do. I appreciate the HOPE you give the fans at home! I appreciate the CHANCE you give them to see you prevail over evil. See you're just like me Chris Constantine Junior—you put asses in the seats, sell tickets, merchandise and create pay per view buys!
CHRIS CONSTANTINE JUNIOR
: Then what in the hell is your problem with me?
ROBB DANIELS
: You get in my way in UWL but not anymore! You can't hurt me now because I am untouchable!
CHRIS CONSTANTINE JUNIOR
: Nobody is untouchable Daniels! See I know exactly how to stick it to you and it all begins tonight! I'm going to win the Chase for the Crown then I am going to kick Danielson's ass and win your Mainstream Wrestling World Heavyweight Championship!
Constantine Junior flips the microphone and "Unheavenly Creatures" begins playing again as he sits on the middle rope flipping Daniels the bird as he exits the ring. He's joined by Olivia as they make there way up the aisle. Daniels and Company are laughing mocking Constantine Jr. as he exits the studio.
MCKAYLA LEWIS
: You've heard it here folks. We've got a Champion versus Champion match with Tedmund Montgomery against Lauren Parker!
CHARLES HUDSON
: We've also learned that the Daniels' Family is completely backing Emma Douglas in the "Chase for the Crown" ladder match later tonight!
MCKAYLA LEWIS
: Chris Constantine Junior is looming for redemption tonight as the people's choice in the same ladder match but we cannot overlook the other three competitors. AJ Knight, Nikolas Thoreau and Skye Healy! What a way to kickoff tonight's show! We're going to hear from the Franchise tonight. Both the US and World Television Championship's are on the line! Let's take our first commercial break and when we return we're in for a real treat! A star studded six man tag team match between Billy Danielson, A.J. Morales and Bryan Blaze all of the Franchise facing off against Jacob Hammerstein, Jason Cashe and Mariano Fernandez!
---
---